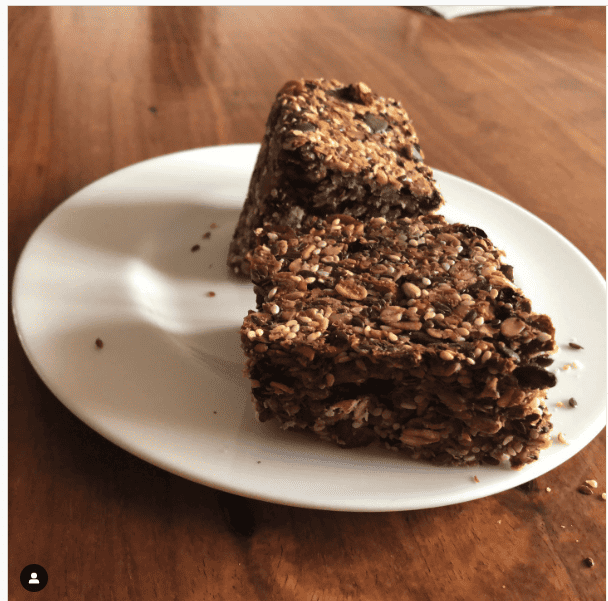 Mim's version of the fabled Life Changing Loaf of Bread
This bread/cake/loaf is based on The Life-Changing Loaf of Bread from mynewroots.org
That is a big call…. a loaf of bread that changes your life.  Perhaps a crumb at a time?
It is delicious and very filling.  A slice can be a breakfast or snack.  This is my 'go to' when I am in clinic or teaching.  Full of prebiotic fibre, plant based protein, good fats and more minerals than you can poke a stick at.
I cook double the quantity in a bigger pan, this needs a little more time in the oven. I will turn it over when it starts to turn golden on top. It stores for up to 5 days, but I cut and freeze portions… ready to go.
Makes 1 loaf
Ingredients:
1 cup / 135g seeds – sunflower, sesame, pumpkin, hemp (one or variety) Don't miss the hemp seed though. 
½ cup / 90g flax seeds
½ cup / 65g nuts – almonds, pecans, Brazil nuts, hazelnuts (one or variety)
1 ½ cups / 145g rolled oats
3 Tbsp. currants, dried blueberries or dried cranberries (one or variety)
2 Tbsp. chia seeds
4 Tbsp. psyllium seed husks
1 tsp. sea salt
2 Tbsp. maple syrup or honey
3 Tbsp. melted coconut oil or ghee
1 ½ cups / 350ml water
Directions:
1. Whisk maple syrup, melted ghee/oil and water together. Add this to the dry ingredients and mix very well until everything is completely soaked and dough becomes very thick (if the dough is too thick to stir, add one or two teaspoons of water until the dough is manageable). Place all in a flexible loaf pan. Smooth out the top with the back of a spoon.
2. Preheat oven to 350°F / 175°C.
3. Place loaf pan in the oven on the middle rack, and bake for 20 minutes. Remove bread from loaf pan, place it upside down directly on the rack and bake for another 30-40 minutes. Bread is done when it sounds hollow when tapped. Let cool completely before slicing.