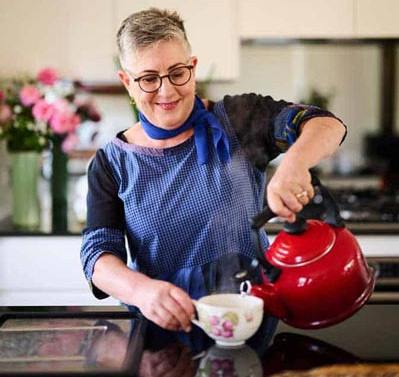 Naturopath and Medical Herbalist, Mim Beim has created 8 therapeutic blends using herbs chosen from the Ayurvedic, Traditional Chinese and Western herbal materia medica.
Organically sourced herbs
Australian grown whenever possible
Delicious chilled
Nothing added, just herbs
Synergistic blend
Each biodegradable pyramid teabag can be used 2-3 times for a more economical healing cuppa. Each of Mim's herbal tea sachets are compostable. Better for you, better for our planet.
Live local?
If you would prefer to collect your tea from Mittagong, purchase your tea (including postage) from the website, and once you've completed your transaction,
email Mim
to let her know. She will then pack your teas, refund the postage to your card, and contact you when they are available for collection from the letterbox
If using loose leaf, allow one teaspoon for each cup, and 'one for the pot'. Add to warmed teapot or infuser. If using pyramid silk bags, add one to each cup. Pour on boiling water. Be still. Become aware of your breath and for the next 3-5 minutes, allow the aroma of the brewing herbs to enrich your life with health and happiness. Add honey if desired. Drink hot or cold. Enjoy.
Drinking a cup of tea is a comforting daily ritual. For people who lead busy lives, the simple act of preparing a pot or cup of tea, appreciating its aroma and flavour, means slowing down, taking time to just be. Making tea for those we care about – friends, mothers, lovers – is a small act, full of love and kindness. For centuries, spiritual masters have taught that true happiness comes from being fully present in each moment. A cup of tea brings us into the moment and makes it richer.
In a word, no, herbal tea does not contain caffeine. However, tea DOES contain some caffeine.  This applies to green, as well as black tea, oolong and white.  
The confusion around tea and herbal tea (also known as tisanes) is understandable. The similarity is that each is made from steeping something in boiling water. In the case of tea, it's tea leaves plucked from the tea bush called Camellia sinensis; in the case of herbal tea, it's leaves, flowers, roots and even seeds from thousands of different herbs for example, chamomile flowers, dandelion root and cardamom seeds.
Most people feel better after the first lesson, and once training has concluded, these benefits are experienced in the long term. Each person is given specific breathing exercises relevant to their individual needs.
Herbs work to enhance the body's own recuperative potential. Traditionally, several herbs are combined in one remedy.  This is called synergy, where the whole is greater than the sum of its parts.  The Mim Beim herbal tea range uses this age-old principle to create a synergy of health benefits and flavour.
Naturopath and Medical Herbalist Mim Beim has 35 years  experience in the realm of natural medicine.  It took her several years of trial and error to produce these blends.  You will not find blends that look as good, taste as good and most importantly are as good for you as Mim Beim's herbal teas.
Signs your breathing may be below par include; mouth breathing, breathing with your chest rather than your belly, snoring, frequent yawning, sniffing or sighing, sore neck and shoulder muscles.
Take my free Breathing Quiz to see how well you breathe. 
By all means you can add honey, sugar or other sweetener to Mim Beim Teas, however, try a cup before you decide. Most of the blends include a small amount of Licorice root (Glycyrrhiza glabra). Licorice also contains glycyrrhizin, a natural constituent that is 150 times as sweet as sugar, without increasing blood sugar levels. Licorice not only tastes good, but is an excellent adrenal tonic, helping your body deal with stress. 
As few as one, and as many as six cups.  For a therapeutic effect, 3 cups or more is recommended.  Herbal tea is often used as an 'adjunct' or addition to other measures including dietary change, supplements and herbal tinctures. 
Herbal tea can be counted as part of your water or fluid intake. Most people need around 2 litres of fluid daily, make herbal tea a part of your fluid intake.  Mim Beim's Herbal Tea can also be enjoyed as a cold drink, or added to your water bottle for hydration throughout the day.
Mim Talks Tea on Vital.ly