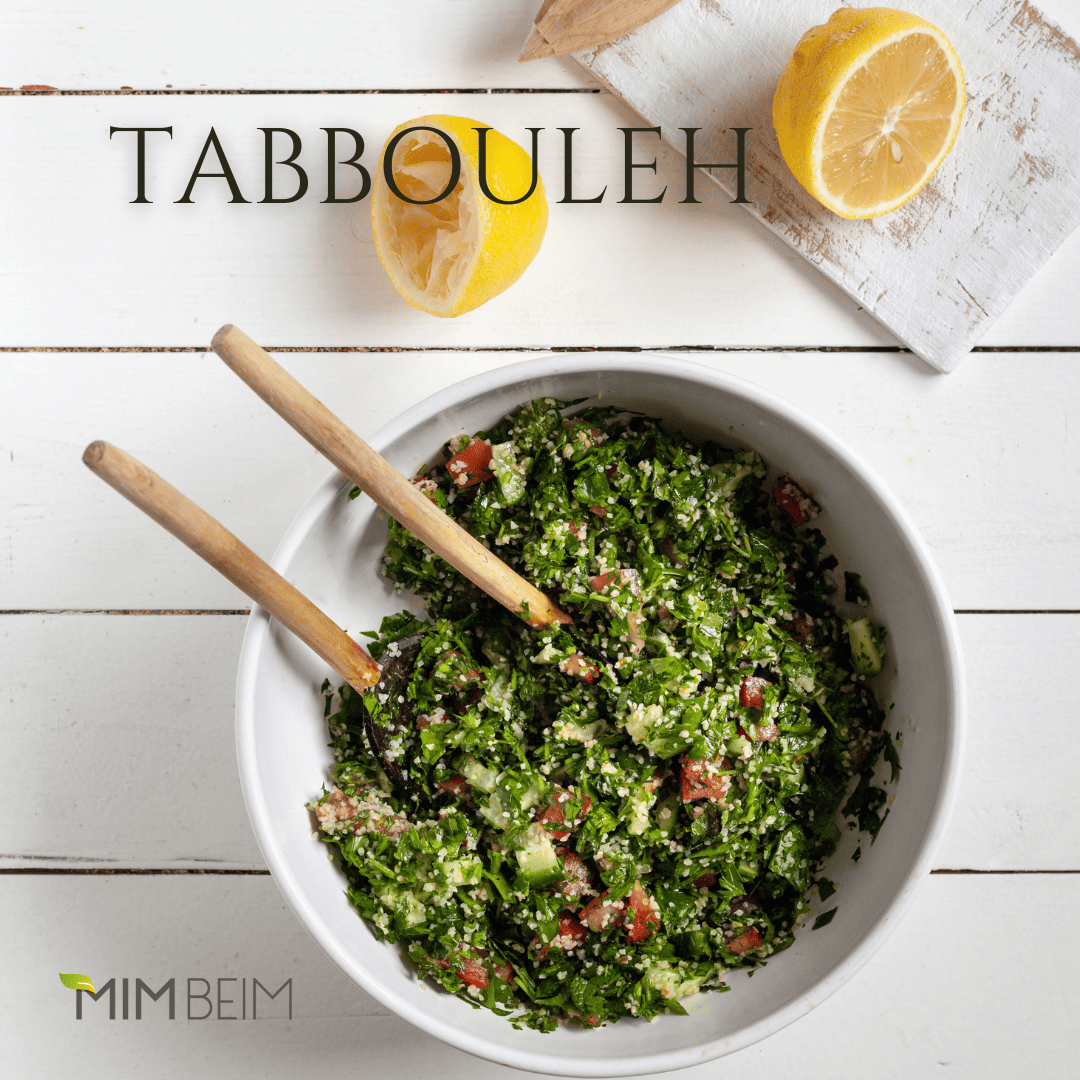 Tabbouleh
Recipe adapted from Jerusalem – Yotam Ottolenghi & Sami Tamimi
"If you want to find a good husband, you'd better learn how to chop your parsley properly"
Quotes like these from chef, Sami Tamimi, are a big part of the charm of the cookbook, Jerusalem
Tabbouleh is a standout salad that is an excellent accompaniment to Chickpeas, felafel, chicken breast, and lamb backstrap. Add some hummus to any of these to make it extra special.
Tabbouleh combines my two favourite foods beginning with P.
Parsley and Pomegranate.
Parsley
What I love about Tabbouleh is that parsley is the main ingredient rather than a token sprig used as a garnish. Parsley is hugely underrated. It contains massive amounts of vitamin C with 100g providing over 100% of your daily requirements. It is also a stand-out for magnesium, iron and calcium. Parsley is super easy to grow in your garden and pots.
Pomegranate
The exotic pomegranate, each seed a red jewel, is a potent source of antioxidants. Used medicinally in the Middle East for centuries, pomegranate is antimicrobial and anti-inflammatory.
Ingredients
2 green shallots (finely chopped)
1 large tomato (seeds removed, chopped finely)
Seeds half pomegranate
2 bunches Italian parsley (finely chopped including stalks)
1 bunch mint (leaves only… don't chop because they will brown)
30g bulgar soaked and strained (omit if gluten-free)
30g pine nuts (lightly toasted)
3 tbsp lemon juice
6 tbsp extra virgin olive oil
Spice mix (optional)
1 tsp black peppercorns
1 tsp coriander seeds
1 small cinnamon stick (roughly chopped)
½ tsp whole cloves
½ tsp ground allspice
2 tsp cumin seeds
1 tsp cardamom pods
½ tsp grated nutmeg
Grind in a mortar and pestle or coffee grinder. Use 1 tbsp and save the rest in an airtight container. You can also buy a pre-made mix called Baharat
METHOD
Chop parsley, shallot, and tomato add to salad bowl. Add pomegranate seeds, toasted pine nuts, bulgar (if desired), mint leaves and spice (if desired).
Combine, add lemon juice and olive oil, mix and serve.