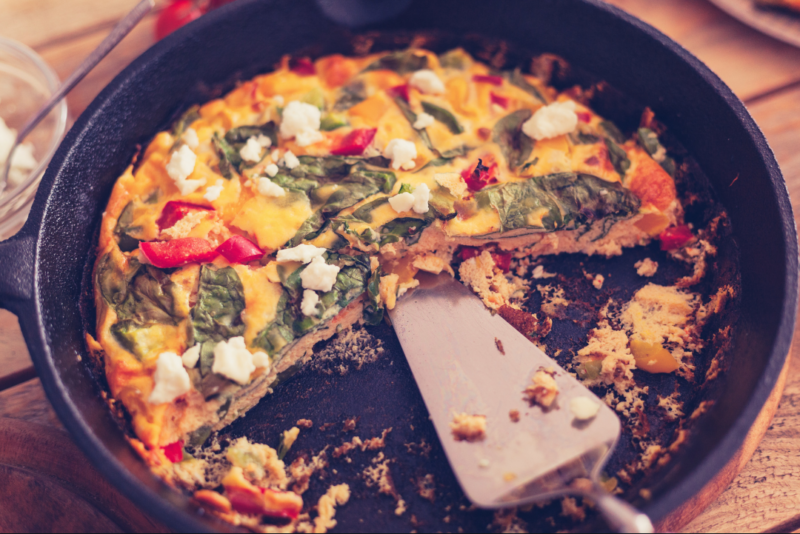 Ricotta & Herb Frittata
Making a frittata may sound fancy, but trust me, it's easy-peasy.
INGREDIENTS 
2 red capsicum
2 teaspoons olive oil
3 leeks sliced and washed
10 organic eggs
1 cup finely chopped fresh herbs (one or more): Continental Parsley, Basil, Rocket, Chervil
250g fresh Ricotta, crumbled
40g (1/2 cup) grated Parmesan
STEPS
Cook capsicum under a preheated high grill until charred and blistered, or roast whole until blistering.
Place in a sealed plastic bag for 10 minutes. Peel and cut into strips.
Heat oil in a heavy fry pan and cook leek over medium heat for 15 minutes or until tender but not coloured.
Whisk eggs until well combined.
Add capsicum, leeks, herbs, Ricotta, and Parmesan. Season generously with cracked pepper and mix well.
Pour into a well-oiled baking dish and bake at 160 degrees C for 30-40 minutes or until set.
Stand in the dish for 30 minutes to cool slightly.
TO SERVE
Serve warm or at room temperature, cut into slices. Serve with garden salad or alone. Can be frozen.