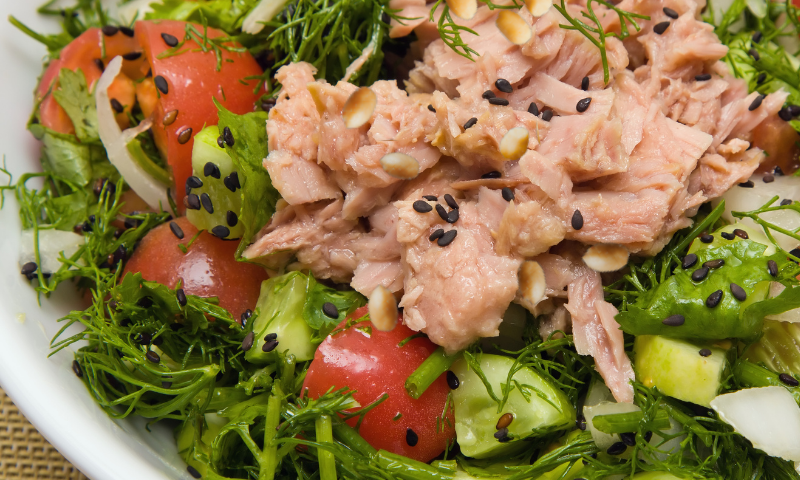 Brown Rice & Tuna Salad
This makes a perfect lunch for home or work. It ticks all the boxes of protein, fibre, low carb, good fats, easy to make and it's delicious. This will make 2-3 lunches, so divvy up in Pyrex containers for pre-prepared nutritional goodness.
For variation, you can replace tuna with chopped hard-boiled eggs.
INGREDIENTS
1 cup cooked brown rice/barley or quinoa

1 x 185g can tuna, drained and flaked (Sol Mare or Sirena)

8 cherry tomatoes, halved

1 cup snow peas or sugar snap peas, sliced

1 cup finely chopped mint and coriander leaves

1 Lebanese cucumber, diced

½ avocado, diced

½ Spanish onion, finely diced

½ cup unsalted, roasted peanuts (omit if peanut allergy and add more seeds)

¼ cup nigella, pumpkin or sesame seed
DRESSING
2 tablespoon olive oil

1 tablespoon red or white wine vinegar

1 tablespoon lime or lemon juice

½ teaspoon chili flakes (optional)

salt and pepper to taste
STEPS
To make the dressing, combine olive oil, vinegar,

lime or lemon juice, chili flakes and salt and

pepper in a cup. Whisk well and set aside.

Place rice, tuna, tomato, peas, mint,

coriander, cucumber, onion, avocado and peanuts in

a large bowl and mix to combine.

Toss the prepared dressing through the salad.

Scatter with nigella, pumpkin or sesame seeds
Recipe from "Feelgood Food", ABC Books: Mim Beim & Gul McCartyre