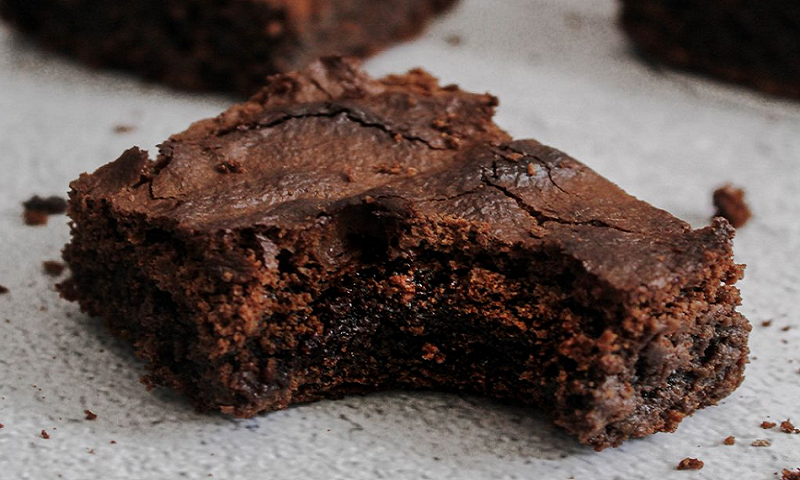 Surprisingly Healthy Vegan Chocolate Fudge Brownies
This recipe I wheedled out of my good friend and colleague Sue Stevens, who plies me with freshly baked brownies when we teach together at Torrens Uni.
INGREDIENTS
1 cup rolled oats

1 x 400g cans black beans, drained and rinsed (or about 3 cups cooked)

1 ½ cups dates (about 260g)

¼ cup cacao powder (unsweetened)

½ cup tahini (or any other nut/seed butter of your choice) / For added blackness, try Black unhulled Tahini. 

2 teaspoons baking powder

½ cup plant-based milk of your choice

1 teaspoon vanilla extract (optional)

chocolate chips (optional – if using, ensure they are vegan if you want the final brownies to be vegan!) or add coconut or walnuts after you have mixed everything together for a bit of extra crunch
INSTRUCTIONS
1. If your dates are dry, start by soaking them in boiling hot water for 20 minutes to soften them up. Skip this if your dates are fresh and moist.
2. Preheat oven to 180c. Line a square baking pan (around 23cm square) with baking paper.
3. Place oats in a food processor and blend until a flour-like consistency forms, about 30 seconds.
4. Place the rest of the ingredients into the food processor and blend until a smooth batter forms. If you like, stir in some chocolate chips.
5. Transfer the batter to the baking pan. Using the back of a spoon or spatula, smooth out the batter. Optionally, top it with more chocolate chips.
6. Bake it in the oven for around 30-40 minutes (depending on your oven), or until a toothpick comes out reasonably clean – it will have a bit of residue as the brownies are very moist. 
7. Let the brownies cool to room temperature in the pan before slicing into 16 portions. Enjoy!
NOTES
Store leftover brownies in the fridge for up to 4 days. The brownies can also be frozen for up to 3 months. To do so, store brownie slices in a sealed container, lining each layer with greaseproof or baking paper to prevent them from sticking together.
To reheat, let them thaw at room temperature for a few hours. You can then enjoy them cold or warm them up in the microwave or oven if you prefer the brownies to be warm